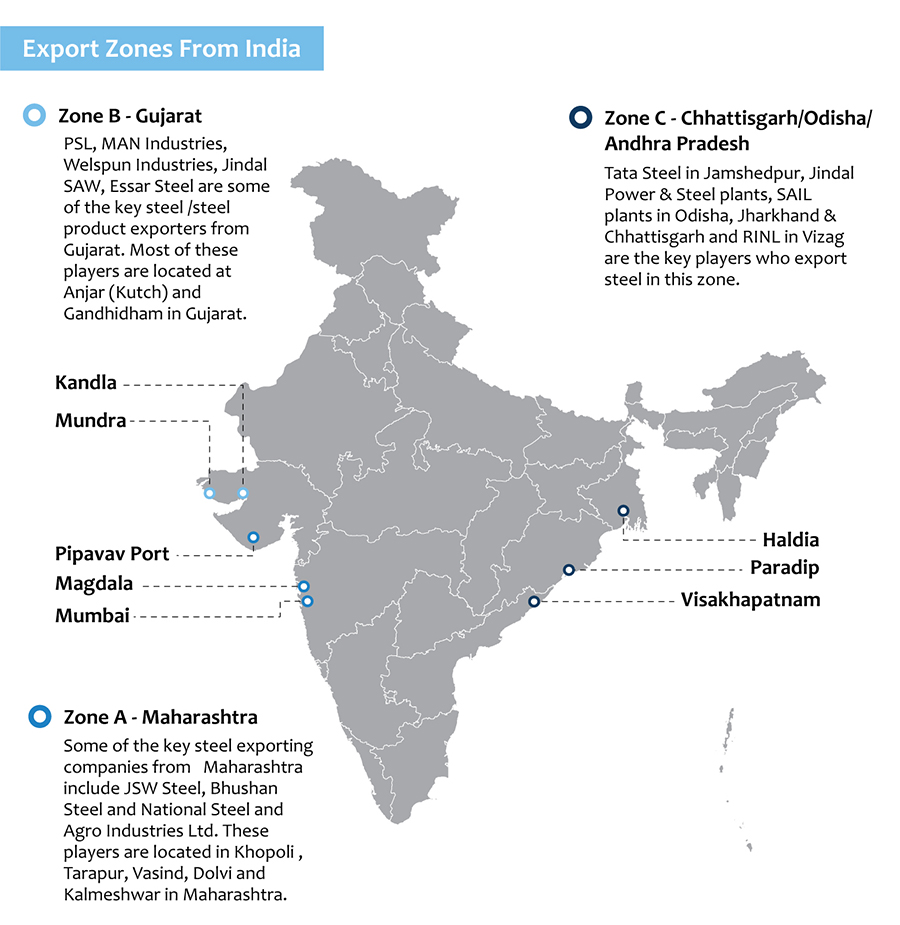 Portall Infostystem Pvt Ltd
Published Feb 07, 2019
India is currently the world's 3rd largest steel producer of crude steel. The country is also the 3rd largest consumer of finished steel in the world preceded by China and the USA. The growth in the Indian steel sector has been driven by domestic availability of raw materials such as iron ore and cost-effective labour. Consequently, the steel sector has been a major contributor to India's manufacturing output. The Indian steel industry is very modern with state-of-theart steel mills. It has always strived for continuous modernisation and up-gradation of older plants and higher energy efficiency levels. Indian steel industries are classified into three categories such as major producers, main producers and secondary producers. The steel sector contributes to over 2% of the country's GDP and employs around 25 lakhs employed in steel/allied sectors.
STEEL PRODUCTION IN INDIA
Below are the production statistics of Crude and Finished Steel:
IMPORT-EXPORT TREND IN INDIA
Below are the statistics of Imports-Exports of Steel:
MARKET PLAYERS IN INDIA
STEEL END USERS IN INDIA
Construction industry (Capital Projects and Infrastructure) is the largest consumer, accounting for approx. 40 % of total steel consumption

Automobiles sector is second with 22% share followed by Consumer Durables and Pipes

ROAD AHEAD
In order to cater the expediential growth of the Steel Industry in India and its requirements for the North Eastern region, the J M BAXI GROUP has built a top-notch facility at Paradip, a major sea-port town, in Jagatsinghpur district of Odisha, India.
The SPV, Paradip International Cargo Terminal (PICT) has been awarded a concession agreement by the Paradip Port Trust to construct and operate a multi-purpose terminal on BuiltOperate-Transfer basis for a period of 30 years at the Paradip Port, Odisha. It is situated 210 nautical miles on the south of Kolkata, West Bengal and 260 nautical miles on the north of Visakhapatnam, Andhra Pradesh.
The multi-purpose cargo berth handles clean cargo which includes iron and steel products, aluminium ingots, pig iron, finished fertilizers, food grains and containerized cargo.

Salient Features of PICT

All weather multi-purpose terminal with 3 Mobile Harbour Cranes, 2 Rubber Tyre Gantry Cranes, 3 Pay loaders, 3 Reach Stacker, 6 Fork Lifts and Tractor trailers
Total Quay length of 450 meters Depth of 17.1 meters capable of accommodating cape size vessels up to 1,25,000 DWT
Total back area of 22 hectares for covered warehousing, container yard and open stack yards
Utilities including fire-fighting system, IT and communication system, water supply, Sewage Treatment Plant
Railway sliding within the terminal
POSTED IN: Supply Chain Management