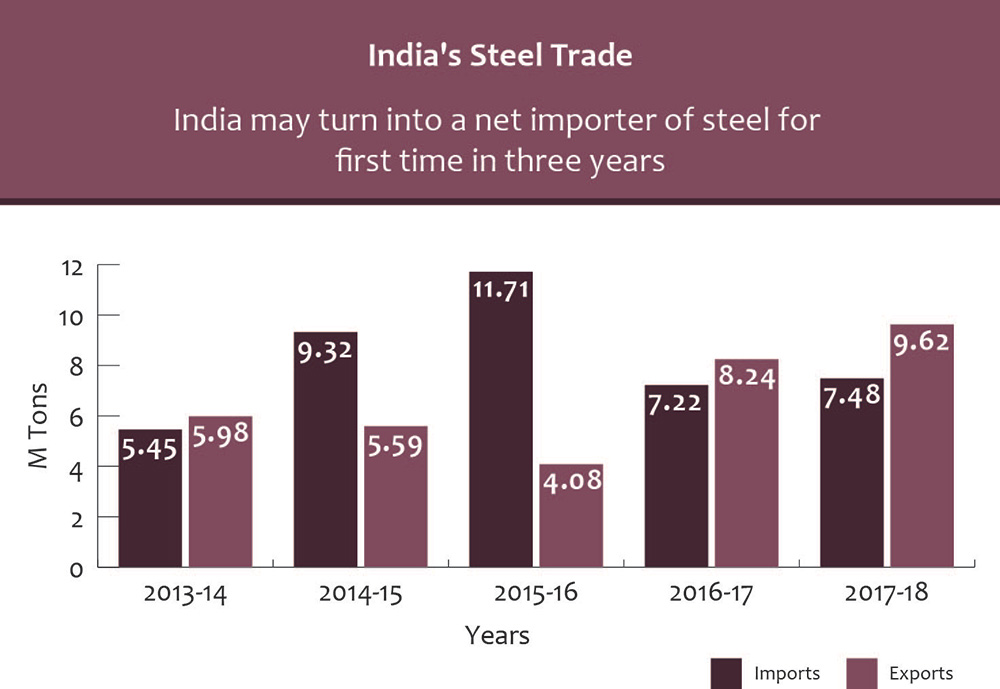 Portall Infostystem Pvt Ltd
Published Feb 07, 2019
Trade Wars Affect The Steel Industry Of INDIA
The end of "cold war" era seems to have been replaced with new "trade wars" now looming large on the global horizon. In the aftermath of US-India spat on trade tariffs and new US sanctions against Iran. India is now all set to launch a formal complaint against the United States, challenging the U.S. President Donald Trump's retaliatory tariffs on steel and aluminium imports, seeking to penalise India's continued trade relationship with Iran, now under the ambit of US sanctions. Officials sources in India have confirmed that the Indian government would open a WTO dispute, if country's firms exporting to US were not granted an exemption. The US President Donald Trump has in March imposed the fresh tariffs, levying 25 percent on steel imports and 10 percent on aluminium, besides other commodities. The US government sources have justified the latest move on account of US national security concerns and therefore say the dispute stands outside the WTO's remit. India, China, Russia, Japan, Turkey and the European Union have however, all dismissed these US claim, regarding the tariffs as "safeguards" under the WTO rules, entitling them to a combined $3.5 billion in annual compensation. Pending a US response to India's plea for exempting India from increased tariff, India too has raised import tariffs on a number of items being imported from the United States.
India's retaliation claim seeks to recoup a cost of $31 million levied on its aluminium exports and $134 million on steel, and it has said it could also target other U.S. exports of soya oil, palmolein and cashew nuts to India. The Indian move follows a similar move in April by China. Under WTO rules, the United States has 60 days to settle the complaint, after which India could ask the WTO to set up an expert panel to adjudicate. India has listed a string of ways, in which the U.S. tariffs violated the WTO rules and unfairly damaged India's interests. It said they broke the WTO's safeguards agreement and the United States was trying to use its tariffs to get other countries to agree to "voluntary export restraints". The United States had also exceeded the maximum import tariff allowed by the WTO and the tariffs were not applied uniformly to steel and aluminium imports from all suppliers, breaking a core principle of the WTO rule book.
The trade tiff with the United States comes at a inooportune time for India, having lately emerged as a net exporter of steel this year and with the trend expected to continue as Indian steel has become globally competitive. India's emergence on the horizon is being keenly watched. As country is now at the cusp of becoming a global steel player and escaling trade tensions could precariously trip the balance against India's strategic trade interests. India's decision to increase retaliatory tariff on steel imports from the US currently also covers tin plate, stainless steel hot-rolled products and CRGO (cold-rolled grain oriented) items. The tariff on these items have been increased to 26.5%, 22.5% and 20% respectively with effect from August 4, 2018. Currently these items attract a standard rate of 15%. Though the US accounts for only a small portion of total exports, Indian steelmakers have begun to carve out a small but significant market for themselves in certain high-value and critical segments such as pipes and tubes used in oil and gas applications. Overall, India's steel production is set to climb 10% to 12% in 2017-18, from a record of 101.3 mn metric tonnes in the past 12 months, and is forecast to advance to 240 mn tonnes by the year 2031.
POSTED IN: Supply Chain Management